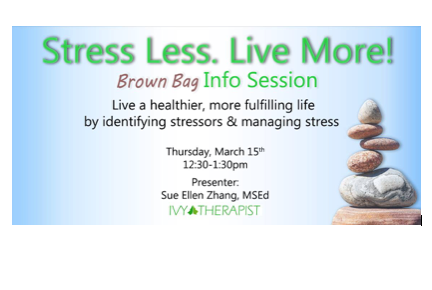 Did you know that prolonged stress can lead to headaches, fatigue, loss of sexual desire, depression, heart disease and so much more?
Society and culture tell us to strive for excellence, reach higher & dream bigger. This can cause a great amount of undue burden and stress as a result of trying to live up to outside expectations. Without an emphasis on understanding & loving yourself first, from the inside-out, we are bound to stay over stressed and under satisfied.
Join me as we identify your stressors, learn stress management techniques & practice relieving stress in order to maintain a long, healthy, happy and productive life.
About Sue Ellen:
Sue Ellen is a Psychotherapist and Certified Wellness Coach. She has a private practice located in Bala Cynwyd with a special focus on motherhood counseling and trauma care. She earned a B.A. in Psychology and an MSEd in School and Mental Health Counseling, both from the University of Pennsylvania. She has worked with a range of clients, in a community setting, from young children to older adults. Sue Ellen has been able to use her strong educational background coupled with a wide array of experiences in career and life to inform her view on people, personalities and the true meaning of life.
Sue Ellen is married with 4 children, all of whom were born while pursuing a high school diploma, B.A. and MSEd. She found her life's passion and purpose through a rather non-traditional path. Sue Ellen is passionate about helping others find their own motivation and inspiration in life. She enjoys reading, dancing, eating spicy food and trying (unsuccessfully) to sleep in on the weekends.